Itun used to be the gang leader of the "Sierra Morena" neighbourhood. He was the eldest of the gang and taught the younger members to use guns. He is now in prison in the town of Bogota after being arrested for armed robbery in 2011.
This is Itun and Jorge on the football court in Candelaria la Nueva. This is where they had their first shoot out against the military when they were about 17 and 15. This combat converted them both into prominent gang leaders. At the time, they, and several friends, had been hanging out on the football court when the soldiers started shooting at them. The only well trained shooter out of all of them was Itun, who shot back at the military while the others fled to their secret hideout for safety.
Xiomara, Jorge's daughter was born in Ciudad Bolivar, Bogota. She was born while her father was serving time for the crimes he committed as the gang leader of Candelaria la Nueva.
Jorge used to be the gang leader of Candelaria la Nueva, Bogota. Born into a poor family of "desplazados" (displaced from their home towns by the guerilla war), he became gang leader at the age of 15 and later served time in Bogota, Neiva and Bolivia for assassination and armed robbery before being killed by old rivals in his neighbourhood in 2011.
The little boy is already practically the "man of the house". Their Mother is rarely at home and the kids do little errands for the people in the neighbourhood in order to dress themselves and eat.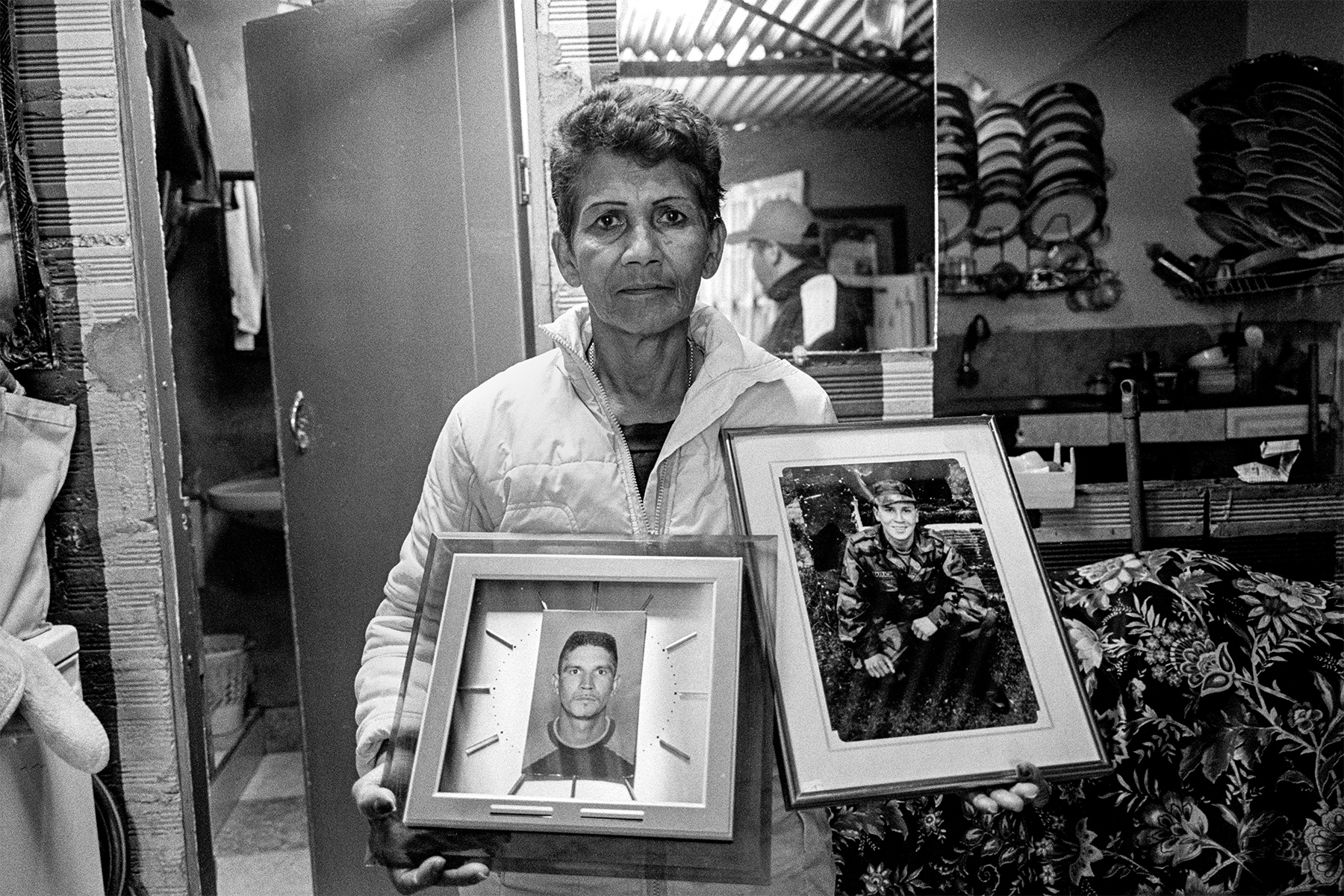 Nieve lost both her sons to the violence in the barrios. 3 years ago, one of her sons, Javier was stabbed to death a block away from home one night for a 5 dollar dept. Vladimir was also killed in the neighboorhood
San Francisco, Bogota. Jorge's cousins are hanging out in front of their home. Jorge's brother Nelson was killed almost in the exact same spot four years later at the age of 32, shot in the back of the head. Nelson had been in a wheelchair since the age of fourteen when he was shot in the neck by the members of the "Conejo" gang.
"El loco", a local legend who is well known in the neighbourhood for his good humour and "craziness".